Welcome to The Tri Tip Guy.com
Thank you for checking out TheTriTipGuy.com – your one-stop website that focuses on the king of beef cuts – the almighty Tri Tip!  We have great how-to videos, tri tip recipes (including step-by-step videos and downloadable PDFs), suggestions for side dishes, and so much more!
"Grilling, broiling, barbecuing – whatever you want to call it – is an art, not just a matter of building a pyre and throwing on a piece of meat as a sacrifice to the gods of the stomach."  James Beard, Legendary Chef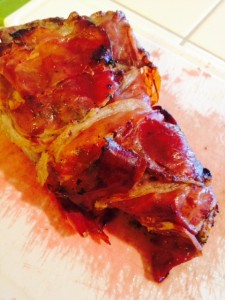 One thing I have learned spending time around grills and smokers is that everyone has their particular way of approaching the backyard cooking experience…and I love that. James Beard is 100% right – cooking IS an art. It takes time and effort to get it right – and everyone defines "right" differently when it comes to art! It takes practice, patience, and the willingness to ask for help.
Tri tip is an amazing cut of beef, and we have found a ton of ways to cook it and serve it up. We are 100% committed to providing you with the tools you need to become the backyard tri tip grillmaster that this world needs!
Our Friends are Cooking Tri Tip!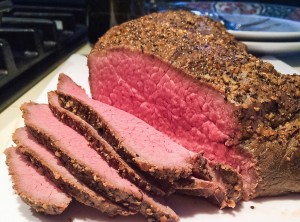 Submitted by Bob Weaver (Sheffield, AL)
If you have a tri tip photo you want us to feature in this spot, click here!  To see previous photos, click here!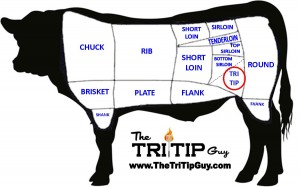 The tri tip cut is a triangular cut
(3 tips, 3 = tri, therefore, tri tip – genius!). 
The cut comes from the back half of the cow; there is one cut per side of beef, meaning that each cow graciously gives us two tri tips (yeah – math!).  When you purchase a tri tip roast at the market, you will find that
 most cuts are anywhere between 1.5 to 4 pounds.
The tri tip cut used to be available on the West Coast only, but it has grown in popularity over the past few years and can be found in many membership stores across the United States.  Tri tip can be called by different names (the California cut, sirloin tip and triangle cut); if you have a hard time locating it, ask your butcher to hook you up (any butcher worth his salt knows about this cut).
More names and info here!
Why does it taste so good?
 It is lower in fat when compared to most cuts; it is the opinion of many that the leaner the cut, the tastier.  Another reason is that tri tip has great marbling, which is the muscle fat found in beef cuts.  This type of fat adds incredible flavor throughout the cut and the cuts of beef that have a higher amount of marbling receive a higher "grade."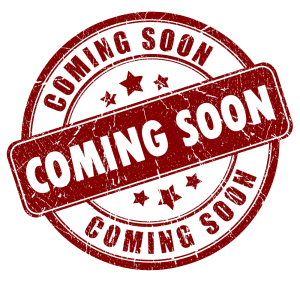 We are working on producing some great new content for TTG:
MORE Tri Tip Recipes 

– dinner dishes, appetizers, sandwiches, and breakfast meals

NEW FEATURE:  "What Sides Do You Want With That Tri Tip?"

  Introducing you to some delicious side dishes that pair very nicely with tri tip – grilled vegetables, potato dishes, smoked cheeses, and more!

NEW FEATURE:  The TTG Buyers Guide

 – honest reviews on BBQ equipment, sauces, marinades, and rubs.

NEW FEATURE:  Connecting with the Tri Tip Community

 – visiting backyard chefs and restaurants to chat about tri tip
"This is my advice to people: Learn how to cook, try new recipes, learn from your mistakes, be fearless, and above all – have fun."   Julia Child