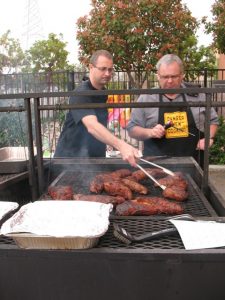 Ahhh…you will never lack friends when you become the go-to tri tip chef!  We have assembled some great resources to help beginning grillers and BBQers become grill masters – especially if you are cooking up tri tip!    Like anything, it takes both knowledge and practice to become a grill master.  Here is the knowledge – now, go practice and reap the delicious rewards!
5 Starter Tips Before You Grill Your Tri Tip
BBQ vs. Grilling – great tips about both cooking styles
Gauging the Heat Using the Hand Test
Smoking Tri Tip (Method #1 and Method #2)
ATTENTION GRILL MASTERS!  For those who have been grilling and BBQing for a while, make sure you contribute to the conversation by commenting on each page.  We are in a community – not in a competition!  Help your fellow backyard warrior and lend a hand with your wisdom!  You can also contribute your thoughts on our Facebook page.